For you, and just for you, we've chosen some original, convivial, fun ways to head out and discover the secrets of our AOC wines…
---
Follow our red wine lines!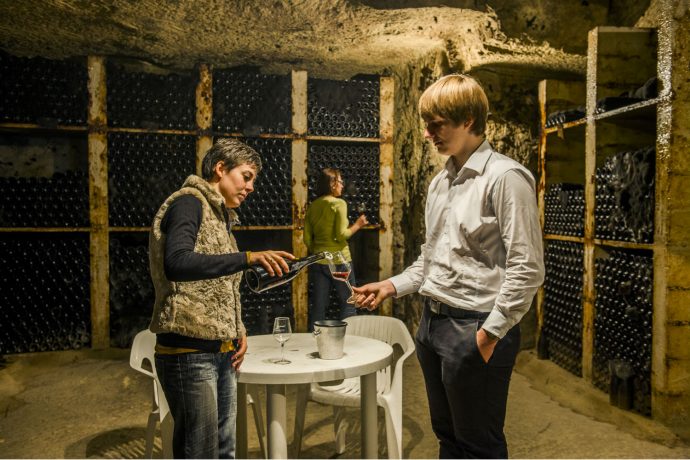 Of course, you can go knocking at the doors of the many wineries within the areas of the AOCs Bourgueil, Saint-Nicolas-de-Bourgueil and Touraine…
Of course, you can immerse yourself in the meandering underground cellars hidden under our vine-covered slopes…
Of course, you can enjoy encounters, conversations and festivities on one of the many open days put on by local winemakers throughout the year…
Of course, you can taste diverse local wines in one of our Maison des Vins…
But consider further wine adventures!
Idea n°1: a playful oenological outing
Ame Wine leads you off the beaten track to discover the Loire Valley's wine appellations. Via playful oenological rallies, vineyard and winery tours, tasting lessons and more… enjoy mixing pleasure and education with great encounters!
Idea n°2: a tour on a gyropod
By Gyroway… or how to go up and down our plots of Cabernet Franc in a very unusual, nay, gyroscopic way!
Idea n° 3: an aperitif on the Loire
Let our favourite boatmen fill your eyes and your tastebuds with delight on a special outing in a toue, a traditional Loire vessel, with tasting thrown in…
Idea n°4: Bourgueil dining !
Bourgueil dining ! A chef, a winemaker, a convivial dinner… and you !
Dedicate an evening to discovering the subtleties of combining wine with food…
Idea n°5: getting into a winemaker's skin
Pruning vines, thinning them, harvesting the bunches… What about becoming an apprentice winemaker for a day?
Idea n°6: A hike through the vines
Imagine vines as far as the eye can see, birds singing along the peaceful slope, the lovely Loire air with its special micro-climate… no excuses, get your trainers on and head out for a hike, on a special trail, or go by bike… or even zumba through our vineyards !